New Yankee Workshop Episode 9902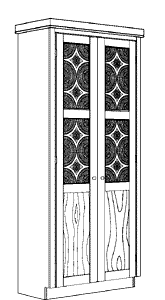 In this episode, building a kitchen pantry, Norm used the following tools:


Items in bold represent the first appearance of that particular tool.
A boatload of new Delta tools in this episode.
Norm discussed the type of saw blade to use on Melamine, referring to an ATB (alternate tooth bevel) grind. He apparently kept it on the Unisaw for the whole project, as you could see the characteristic kerf marks when he did his nibbling thing on tenons later on. When he uses a TCG (triple chip grind) blade they are much smoother.
Norm used a plain board clamped to the Unifence as a sacrificial fence.
The safety speech included video of an operation on the router table (finger slip).
Norm advised a dust or particulate mask to cut down on airborne particles.
No field trip this episode.
This episode was processed based on the full length original broadcast by PBS.