New Yankee Workshop Episode 906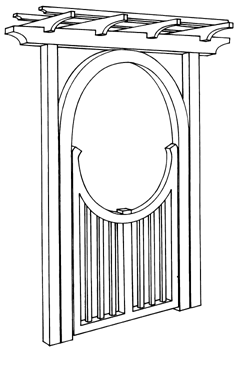 In this episode, building a garden gate, Norm used the following tools:


Items in bold represent the first appearance of that particular tool.
We had another visit from Hugh, the "neighbor who works nights", but who is actually the grip/gaffer on the program and makes an occasional on screen appearance whenever a helping hand is needed—say to lift a heavy garden gate.
The safety speech included video of a crosscut operation on the radial arm saw.
This version of the safety speech started out, "before using any more shop tools…" instead of the usual.
Norm also included a warning to use a dust mask when processing the pressure treated stock.
Field trip was to a garden at a private residence—uh, Morash's. Well, that's where the gate went, but Norm actually visited Michael and Cheryl Lunder in Swampscott, MA, to see their gate which was the prototype for this project.
This episode was processed based on the full length original broadcast by PBS.