New Yankee Workshop Episode 905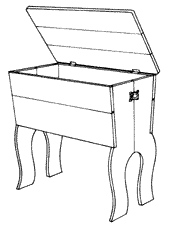 In this episode, building a dough box, Norm used the following tools:


I remember seeing this episode when it first aired. Years later, after I'd started this project, I recorded it from HGTV. Noticeably lacking was the bit about the mouse hole. I thought I must have imagined it, but when I subsequently saw a full episode again, there it was. Edited out for commercials on HGTV—another example of how much content was lost for that medium.
Items in bold represent the first appearance of that particular tool.
Norm used a plain board clamped to the Unifence as a sacrificial fence.
He also gave quite a demonstration of both detritus removal from salvaged lumber and the monster 5 HP dust collector in the back alcove.
The safety speech included video of a crosscut operation on the radial arm saw—oblique view.
Norm added hearing protection to his safety advisory.
Field trip was to the home of Keith & Julie Dimond, Savannah, Georgia.
This episode was processed based on the full length original posted on The New Yankee Workshop website. Duration 24′ 27″