New Yankee Workshop Episode 208
In this episode, building a kitchen work table, Norm used the following tools: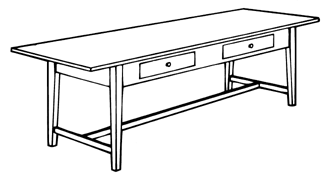 Items in bold represent the first appearance of that particular tool.
Norm built a jig for moritising the legs with a router.
Apparently still getting used to the new safety speech, Norm's rendition was pretty mangled. This suggests that although aired at eighth place in the season, it was probably produced earlier than others that preceded it in the sequence. Perhaps as the first one with the safety speech.
The safety speech included video of an operation on the contractors saw.
Field trip was to Shelburne Museum in Shelburne, Vermont.
This episode was processed based on a broadcast by HGTV.