New Yankee Workshop Episode 211
In this episode, building a chest on chest, Norm used the following tools: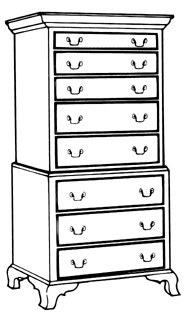 Norm stumbled a bit in the safety speech, saying, "make sure…" instead of "be sure…" As I speculated in Episode 208, I believe these episodes were actually produced earlier than they appear in the broadcast sequence. Further evidence is that although the Biesemeyer fence was introduced in Episode 209, the original JetLock is still in evidence in this episode.
The safety speech included video of an operation on the contractors saw.
Field trip was to Sheldon Hawkes House in Historic Deerfield, Massachusetts.
This episode was processed based on a broadcast by HGTV.