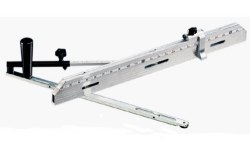 EB-2
---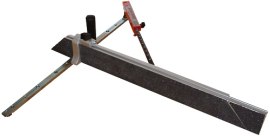 EB-3
Note: the Hall of Fame qualification is for the combined appearances of the two. They are functionally the same tool.
Once Norm got the Osborne, he seemed to have transferred a lot of the angle cutting he usually did on the miter saw to the Unisaw with this miter gauge.
He started out with a -2, the top picture, and then in the 15th season started using a -3, the bottom picture. As you can see, they are quite similar.
Appearances: Episodes:
9910, 9913
1207, 1209, 1212
0105, 0110, 0111, 0112, 0113
1401, 1402, 1404, 1405, 1406, 1408, 1409, 1411, 1412, 1413
1501, 1502, 1503, 1507, 1508, 1510, 1511, 1512, 1513
1601, 1602, 1604, 1605, 1607, 1609, 1610, 1611, 1612, 1613
1701, 1702, 1704, 1705, 1707, 1708, 1709, 1711
1802, 1805, 1809, 1810, 1811, 1812, 1813
1901, 1902, 1904, 1905, 1906, 1907, 1909, 1910, 1911, 1912
2001, 2002, 2003, 2004, 2005, 2006, 2007, 2010, 2011, 2012, 2013