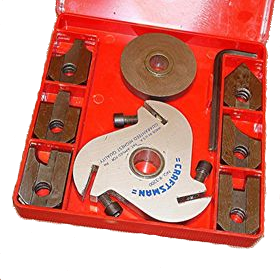 3 blade molding head set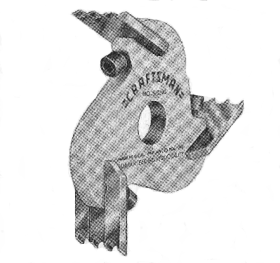 Oblique view of molding head
Incidentally, Sears sold both 1 blade and 3 blade sets, and two sizes of the 3 blade sets. The two diameters were ≈4¾" and ≈6"—same cutters. I have both sizes.
This attachment can be used on either a table saw or a radial arm saw. It sure does make an impressive noise when the machine is turned on.
Update: Interesting note—over the years I made the assumption (yeah, I know) that because of the Delta relationship, that this particular accessory was a Delta version. A recent check of the New Yankee website had a question about blades and the answer referred the reader to Sears, noting, "that's where ours came from many, many years ago." Well, duh, looking at the first line of "Appearances" below, Season One—the season that was full of Sears and Shopsmith tools (except for the Unisaw, which has been there from the beginning). Time to change the pic.
Appearances: Episodes
106, 107, 111, 113
203
410
503
707