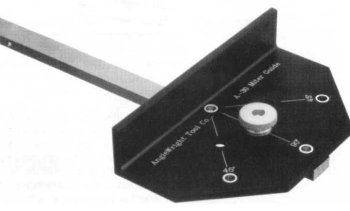 Thanks to my friend, John Jory, at AngleWright for making this graphic available to me.






Last updated: 29 March 2009
AngleWright made a couple of nice tools which Norm used— this really nice miter gauge and a height gauge. It is very basic, and similar to one marketed by Hartville Tools. They were out of business for a while, but someone bought them and is spooling up for production.
Appearances: Episodes
901, 904, 907, 909, 911, 912, 913
9803, 9805, 9806
9901, 9905, 9907, 9908, 9909, 9911, 9912, 9913
1203, 1204, 1206, 1208, 1209, 1210, 1211, 1212, 1213
0101, 0102, 0103, 0105, 0107, 0108, 0109, 0111, 0112, 0113
1402
1709
1910