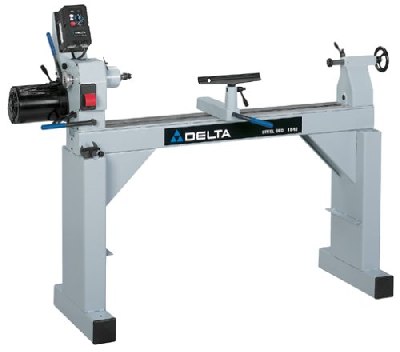 Appearances: Episodes
1411
1503, 1504, 1510
1601, 1607, 1608, 1609, 1610, 1611
1702, 1703, 1704, 1706, 1708, 1710
1808, 1812
1901, 1904
This is Norm's new Delta lathe. It's been in use long enough now to have demonstrated some of its real value. For example, the motor controller netting very low speeds. It is much bigger and beefier than the 46-700, and although perhaps no bigger or beefier than the long gone DL40, is certainly a superior lathe.
The small print on the front says "Steel Bed 1642". The 1642 refers to the 16" swing and the 42" between centers capacity of the lathe.
Thanks to my friend Mike Russo for spotting this lathe, before it was even featured, in the shop tour on the New Yankee Workshop website.
Last updated: 14 October 2007