New Yankee Workshop Episode 9801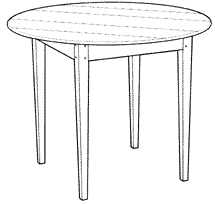 In this episode, building an Irish table, Norm used the following tools:


Items in bold represent the first appearance of that particular tool.
Norm built a new version of the tapering jig in this episode.
For the first time since getting the new Unisaw, Norm slid the arm on the Unifence back in order to use it as a gauge block for making shoulder cuts.
The try square and dead blow hammer were in view and clearly had been used, but it wasn't actually demonstrated in this episode.
The safety speech included video of a crosscut operation on the radial arm saw.
Norm included a warning about long sleeves in his safety speech.
Field trip was to Celtic Pine Antiques, Nantucket, Massachusetts.
This episode was processed based on the full length original broadcast by PBS.