New Yankee Workshop Episode 1201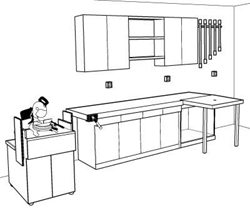 In this episode, building a garage workshop (part one of a two part project), Norm used the following tools:


A rare no-Unisaw episode, but we are off-site, after all.
Items in bold represent the first appearance of that particular tool.
Norm showed us how to make and use a French cleat to hang cabinets.
I have looked for years for the Levelution extendable level Norm used here (and on a couple of This Old House projects), but have not been able to find a picture of one. The website of that name redirects to Irwin, but they apparently didn't continue the product. Update! See "Level" in list.
Norm used a plain board clamped to the Unifence as a sacrificial fence.
The safety speech included video of an operation on the router table (finger slip).
The project was built in Russ Morash's garage. As if he didn't have enough shop space.
No field trip this episode.
This episode was processed based on the original broadcast by PBS.