Porter-Cable 42690/42700 Router Edge Guide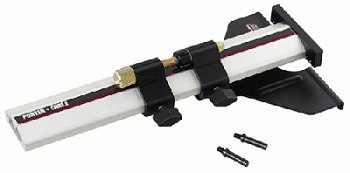 Appearances: Episodes 1205, 1213+
This is the space-age edge guide complement to the P-C 7529 plunge router. Several companies have been redesigning their router line to reach the 2 hp market, whatever that is. While they were at it, P-C came up with this edge guide, which is available to fit the 690 series routers, as well.
The -690 is the version that fits on the 690 series routers (adjustable to fit the varying rod spacing between the 691 and the 690/693), and the -700 fits on the 7529/8529, plus P-C's other big routers. I won't differentiate between the two in the listings—you can figure out which is which by the router to which it's mounted. The -690 will fit the newer 89x series of routers, as well.
Thanks to a fellow wrecker who alerted me to the two different versions of this edge guide.
And thanks to my friend Bill Rainford who informed me of the compatibility of the 890 series with this guide.
Last updated: 5 March 2009