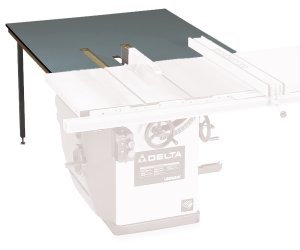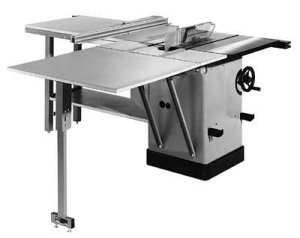 <!p><!img align="left" src="50-302.jpg">


Norm originally used Russ Morash's Rockwell Unisaw, which had been a gift from Russ' wife. For most of the first two seasons, it was used with the original fence and no auxiliarly tables. Toward the end of the Second season the saw was outfitted with a Biesemeyer fence, a right side extension table, and an outfeed table.
Biesemeyer makes two of them—one with two auxiliary legs at the corners (left, top) and one with a single post in the middle (left, bottom). There is a slight difference in their design—the one legged table has a hinge and the two legged table probably does not.
Their function, however, is identical—to support stock after it passes the blade and the end of the cast iron table top which is integral to the saw. The two legged version was on at first, but the one legged version has been in place since Episode 0104 which marked its first appearance.
Thanks to my friend, Tony Tarpley, for spurring me to make a page for this.
Appearances: Episodes: Any with the Unisaw since Episode 209.