14-600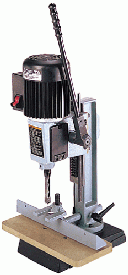 14-650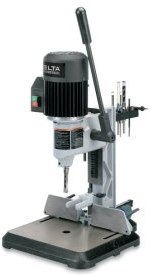 14-651
I'll bet Norm has sold a lot of these and the versions of other manufacturers as well. If you do Mission Style furniture with lots of mortises, you need something like this.
I believe a 14-600 (I had the model # wrong for many years) started it all, however Delta redid it early on, renaming it to 14-650. Then they re-engineered it to the 14-651, which showed up in Episode 1704. I'm part way through reviewing all of the episodes and I'll have definitive identifications eventually. All 14-651 appearances are correct.
Notable distinguishing characteristics are:
the lack of cooling fins on the motor of the '600.
the slightly rounded housing on the '600, then the squarish on the '650, followed by the even more rounded housing on the '651.
no left/right access covers in the housing of the '600.
the column on the '600 was square tubular steel, the '650 had a plain cast iron column, and the '651 had cross webbed pattern cast iron column.
the on/off switch on both the '600 and the '650 was a toggle switch while on the '651 it was a push button.
there is a tool holder at the back of the head on the '651.
Of course it's principally the housing—slightly rounded, quite rounded, or flat—which will be visible in any of the episodes.
Appearances: Episodes
407, 411
501, 504, 505, 512
605, 608, 611
701, 704, 706, 712, 713
801, 802, 803, 806, 811
901, 903, 904, 906, 908, 910
9801, 9802, 9803, 9804, 9805, 9806, 9808
9902, 9904, 9905, 9912

Episode 9902 first appearance of 14-650.

1203, 1204, 1210
0105, 0108, 0109, 0112
1405, 1411, 1412
1502, 1508, 1512
1601, 1605, 1609, 1610, 1612, 1613
1701, 1704, 1705, 1707, 1709

Episode 1704 first appearance of 14-651.

1802, 1808, 1812
1901, 1904, 1905
2004, 2008, 2012, 2013